Hilton Playa del Carmen Destination Wedding – Cassie & Danny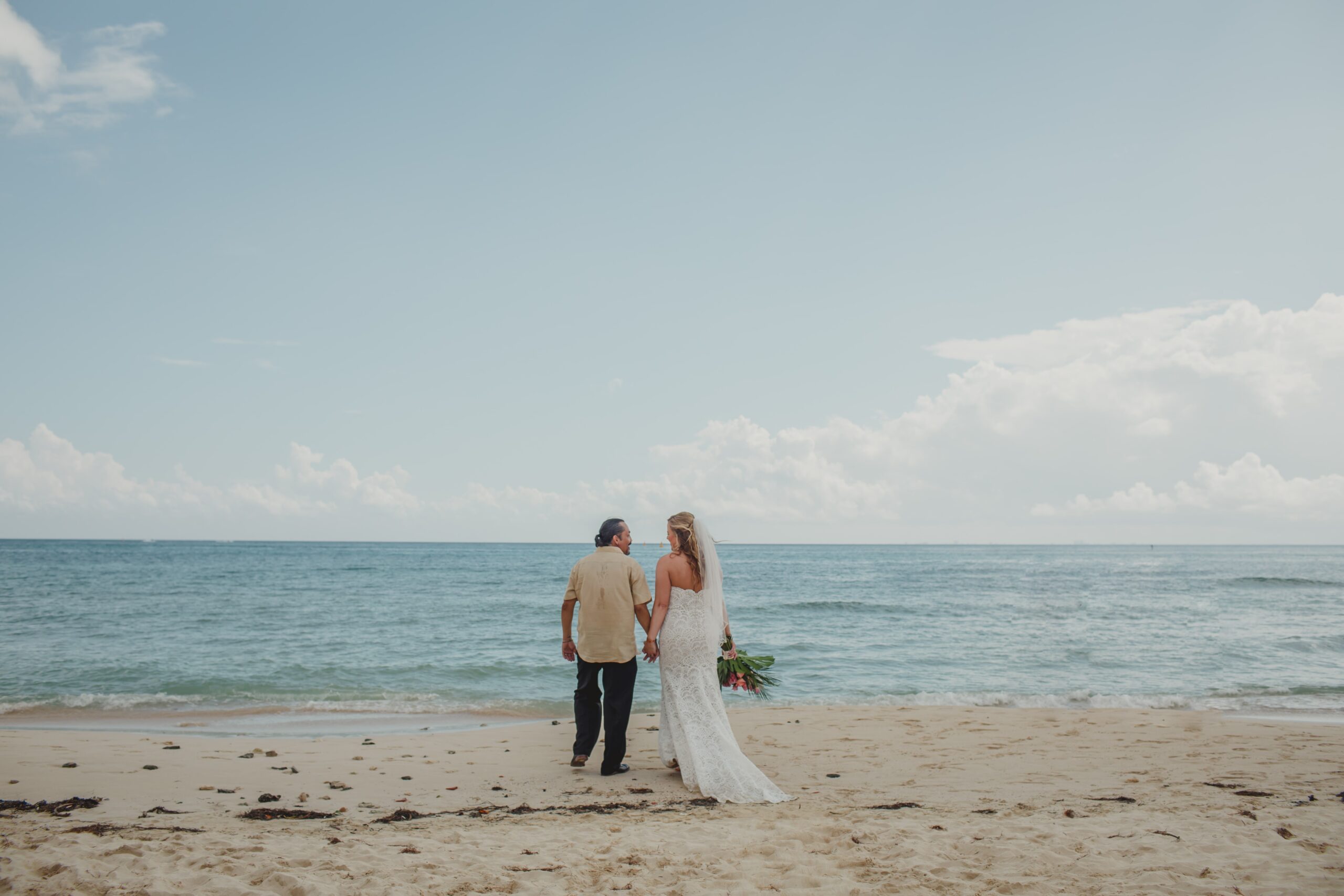 For these two lovely people, a destination wedding in Mexico was an easy decision after both spending time here on their first-ever vacation together. The wedding took place at the Hilton Hotel in Playa del Carmen, where Cassie and Danny invited their guests to their magical day inspired by their impressions from their first visit. From the wine ceremony, the reception backdrop, the music, and everything to the little details was perfect and exactly organized as to how C & D imagined.
Take a look below at their destination wedding interview and be sure to check out the gallery to see the images of the couple's wedding!
Destination Couple Interview
1. How did you personalize your wedding? What about your wedding was most unique?
We personalized our wedding by getting married at the site of our first vacation together. We fell in love with the Hilton when it was still the Royal and have been visiting every year since. We have so many happy memories there. Danny thought the wine ceremony was the most unique part.
2. Anything you would have done differently?
Honestly, no. Everything was more perfect than I could have ever imagined.
3. What details are you most proud of?
I am most proud of the beauty of the water as our backdrop, the music—I was so happy to have the Looks as our band as they are my favorite. I love that they sang my husband's favorite song. I love that I got to walk down the aisle to non-traditional music and personalize our ceremony. I loved the gorgeous flowers in my bouquet and our altarpiece. I loved our officiant who put our ceremony into words that summed us up perfectly. Danny said he was most proud of our officiant, he thought she did an amazing job.
4. What particular moment of your day will you remember most?
Crying when I said my vows, seeing the love and excitement from our friends and family, having the Looks choose an amazing song for our first dance that was unexpected and perfect at the same time. I also loved it when we were taking pictures by the pool and we got to dance to our song X by Nicky Jam surrounded by people cheering us on in their swimsuits. For Danny, he said his moment would be seeing me walk up with my dad. He also loved walking past the pool and having everyone cheer for us.
5. Best advice for another couple?
Expect little things to go wrong and don't strive for perfection, everything will work out as long as you're with the right person. Try to soak up and enjoy every moment. Danny's advice—plan way ahead.
6. What was the biggest surprise of your wedding day?
The biggest surprise was how we were embraced and celebrated by people we didn't even know. One man said he felt like we were a good omen for his decision to move to Playa. One woman was so touched witnessing our wedding party she recorded a video of our first dance and made sure she sent it to me.
7. Anything else you'd like to add?
Our day was incredible. My friend Maria (the singer at our wedding) said that it's good luck to have it rain on our wedding as it is pouring love into our marriage. I think that is really beautiful.
8. What did you love most about working with Paradise Photo Studio?
Ashley! She took the time to understand the vision we had for our wedding. Her creativity, artistry, and talent for photography showcased our wedding perfectly. Danny and I loved the different locations she chose to photograph us.
Hilton Destination Wedding Playa del Carmen