Welcome to Paradise Photo Studio's Website! We love weddings and are especially passionate about destination wedding photography here in Playa del Carmen, Mexico.
Here at Paradise Photo Studio, we love the romance, joy, and excitement that surrounds the couple on their special day. As your Riviera Maya wedding photographer, nothing makes us happier than being able to capture the beautiful, sacred and spontaneous moments that happen during a destination wedding. We revel in the happy chaos and chatter of Playa del Carmen weddings and never tired of it.  We believe that we are extremely lucky as we are able to document, through pictures, the amazing stories of the wedded couples here in the Cancun area.
Stylish Wedding Photography For Your Memorable Day!
Always ready to work hard to make your wedding day special. With us, you can hire an affordable Riviera Maya wedding photographer and plan everything under your budget. Our photography services are available in Tulum, Riviera Maya and other Mexican cities.
The professionals that we work with are experienced, friendly and skillful.  By capturing your exclusive moments, you are going to begin your marital life elegantly. Enjoy the sweet wedding day with your beloved and leave us, as Riviera Maya wedding photographer, the task of taking all memorable photos.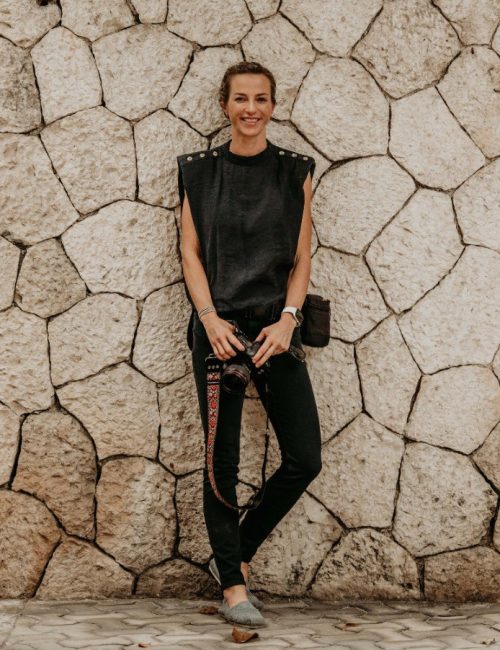 For our wedding, the one thing I wanted was great memories via photos. I have very high expectations and they were completely exceeded using Ashley and her team! Her team was not only reliable and offered a great value for the end product but we received our photos inside of 24 hours to bring back to Canada with us!!! Crazy high quality pixels too!! Of particular note, was the professionalism and creativity of her camera team. They had great ideas to use the scenery and property for the poses, yet also brought the candid perspective, which exposed the sentiments of the moment through film. I would not only use Ashley and her team again but I would highly recommend them for anyone else who is interested in awesome photos and capturing memories for years to come!!!
We had such a good experience with Ashley and the Paradise Photo Team! We did a destination wedding and was nervous about selecting a photographer as we were not familiar with the vendors in that area. Our hotel recommended a handful of photographers and even set up a meeting so that we can meet each vendor. We ultimately ended up choosing Paradise Photo Studio since they were the most personable and easygoing. Photography and videography were our two must-have items for our wedding so choosing the right photography studio was key. They took their time to get to know us as a couple and understand the vision we had in mind. Come wedding day, they guided us through the whole day and had everything planned so no time was wasted. Must I say, the pictures and video turned out PERFECT! We had them modify a few things on the video but it wasn't an issue at all and they were happy to help! We are so pleased with everything and would 100% choose them again. Thank you, Ashley and the Paradise Photo Team!
We got married in Riviera Maya Cancun at the end of April 2018 and Ashley was awesome from start to finish, professional, organized, friendly, and most importantly, she took the most beautiful photos - on a windy evening at the beach, we might add. We first met to discuss our vision for our wedding photographs and she was helpful and insightful. She filmed our ceremony with perfect scheduling and managed to be ninja-discreet amongst all of our excited, phone-happy guests. Throughout our session, she helped us feel relaxed and at ease and had a great sense of humour. She captured all of our most special moments and "good angles" with elegance, grace and with flawless delivery. She made everything look as magical as it felt for us and even more. Ashley is an incredibly talented and creative photographer and we highly recommend her. Thank you so much again for your five star service!
We booked Ashley Posusta for our wedding this past December in Riviera Maya. This was the best decision we made as Ashley was beyond PERFECT!!!!! Everything from the moment she arrived until the moment she was finished was amazing. She took pictures and video from every angle possible and didn't miss a thing! She made our day that much more special by making us feel like she was part of our family. We received our photos and they are flawless, everything from the scenery photos, the guests, the set ups and of course us and our wedding party. The only regret we have is not booking her for more photos!! The next time we are in Riviera Maya we will be booking Ashley for more photos!! Highly recommended in every aspect, don't hesitate and book Ashley and Paradise Photo Studio today!!!!!
We absolutely loved having Ashley photograph our wedding!! She was always quick to respond to emails and was able to work with us for what we wanted. We felt she gave us all the attention we needed on our day and made us feel so comfortable; she handled our crazy big family very well. She got our photos to us within two weeks and they are perfect. We couldn't have asked for a better photographer and her assistant, Allen, was awesome, too!! Thank you, Ashley, for giving us the gift of being able to relive the best day of our lives!!
Got married in October in Cancun trying to run away from our families: for better or for worse 67 friends and family joined to watch us get married. Ashley and her crew killed it: we've got 3000+ pictures, 500 edited, a slideshow, 2 videos that brought to life the ceremony + reception (everything was wetransfered less than 3 weeks later). I'd think it's tough to find a real pro, who's also American (easy communication, seemless transition from emails to day of), who also understands all of the elements of a religiously jewish wedding on a Saturday evening (and therefore can manipulate around different lighting conditions)... in cancun. We lucked out.
Live your magic and save your precious love memories. Paradise Photo Studio is here to help you!