Villa la Joya Destination Wedding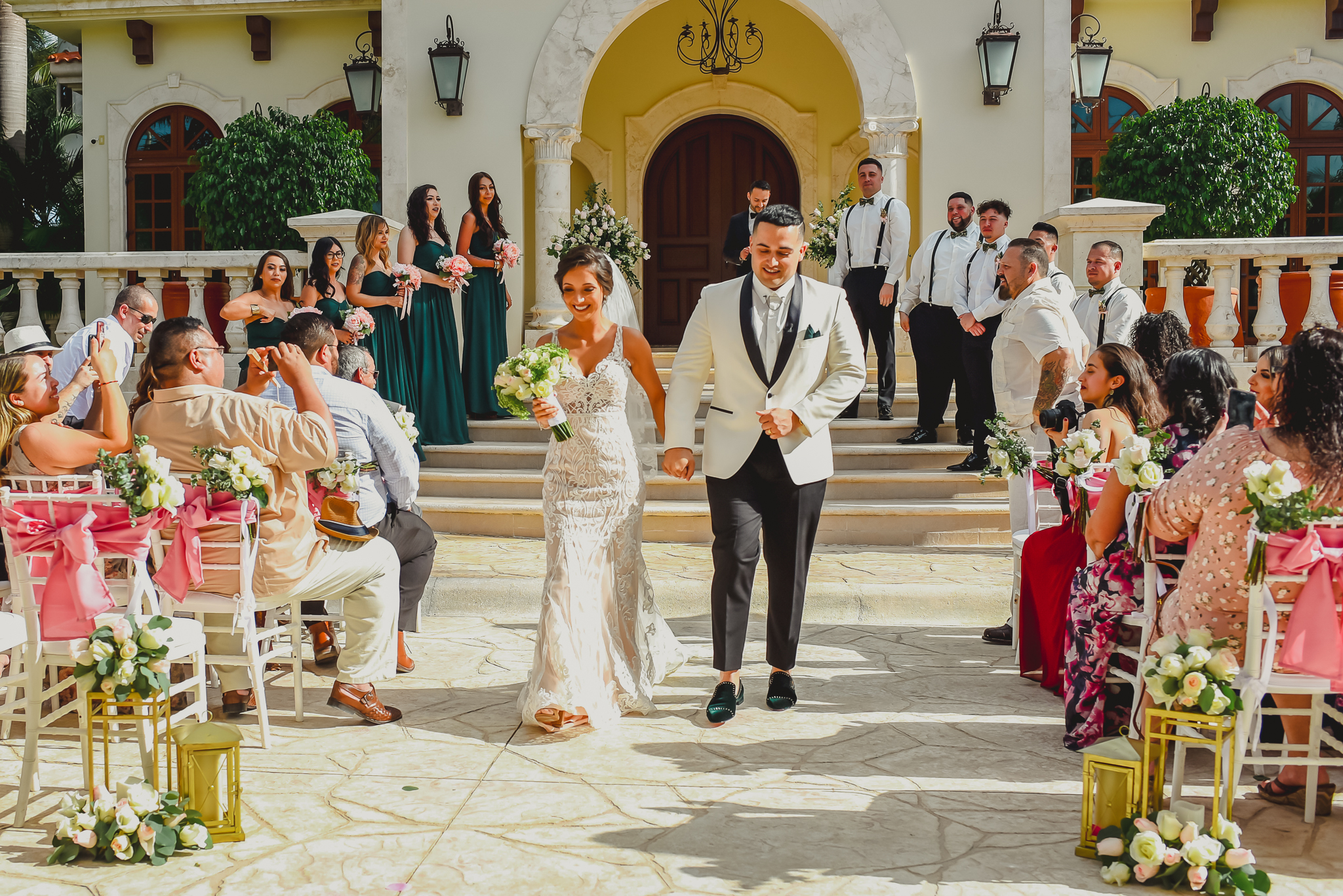 The inspiration behind Unice and Giovanni's wedding day was their first trip ever that they took together back in 2015 in the Riviera Maya, Mexico, where they fell in love with the area immediately. Charmed by the beauty of the Riviera Maya, they knew they wanted to share the experience with the rest of their friends and family. That being said, these two love birds were married earlier this year on February 22nd at the stunning Villa la Joya.
Keeping the tropical vibes of the Riviera area, especially the villa itself, the couple had a beach inspired theme. Using gold accents and soft pink colors with forest green as the burst of color, they successfully gave the venue a moment on its own and let the delicacy of it shine.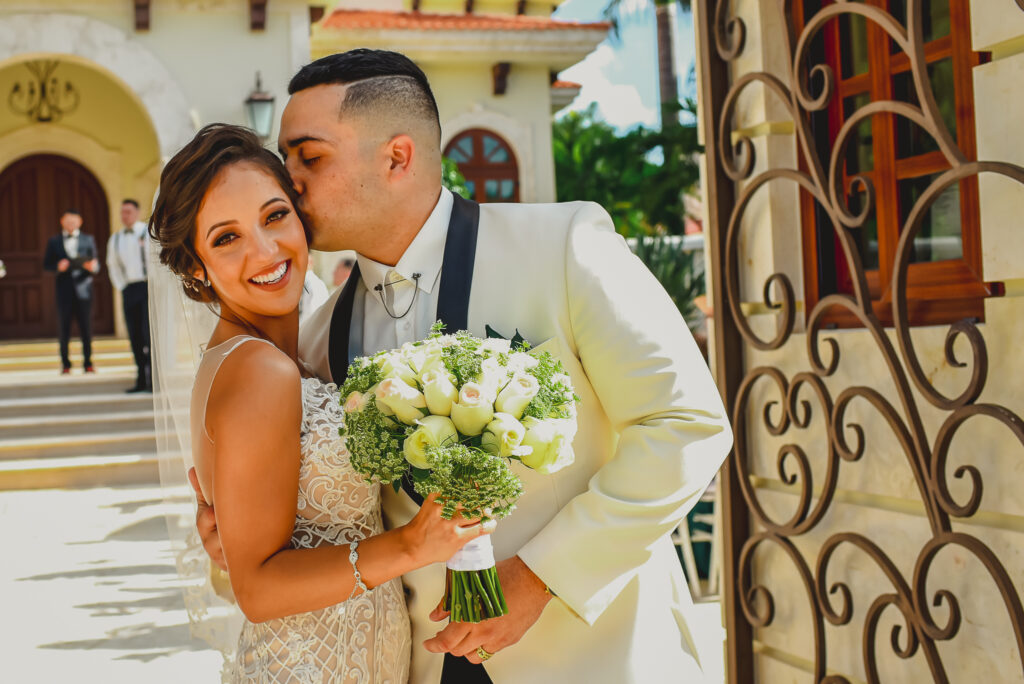 As their wedding photographer, I enjoyed every part of their wedding and I can write about it all night long. But this time around I wanted to include the couple, to tell us all about their Villa la Joya destination wedding from their perspective. I took the time to ask Unice and Giovanni to be a part of my blog and here you can find out how Unice made her first move on Giovanni, their perfectly planned proposal, all the way to the best wedding day memories.
THE LOVE STORY
Unice: Giovanni and I first met in September of 2014. I was only 21 and on my last year of college at San Jose State, California and Giovanni was 25 working in law enforcement at the time. There was a very popular bar in San Jose called 'Tres Gringos' and that is where Giovanni and I first met. I actually was the one to make the first move and bought HIM a drink that night! We exchanged phone numbers but did not go on an official first date until a month later. We went to a restaurant called Yard House and Giovanni was 30 minutes late to the date! After having our first argument that night about him being late, we laughed about it over dinner. The vibe between us was so natural and, as crazy as it sounds, I knew I wanted to marry that guy some day.
THE PROPOSAL
Unice: In October of 2017, Giovanni and I took a trip for my birthday to Dubai, which had always been a dream of mine to visit. We both were very interested in visiting "the tallest building of the world", the Burj Khalifa in Dubai. Months prior to the trip, Giovanni had been asking me what style of ring I wanted and the shape of diamond I would like on it. I sent him photos of the ideas I had, because of course I have been planning every single detail of my wedding since I was 5 years old! I suspected a proposal was coming, but I was surprised when he did it on my actual birthday. Anyway, we ended up going to the Burj Khalifa on my birthday and it was on the 148th floor that he got down on one knee. "We're on top of the world and I want you to make me feel like I'm on top of the world for the rest of my life, will you marry me?" I'll never forget his words.
FAVORITE WEDDING MOMENTS
Unice: With Giovanni and I not being very traditional or religious, we decided to have a symbolic ceremony at the front of the Villa La Joya location. It was very difficult to agree on a favorite part of the ceremony because everything was perfect, thankfully, after all of the planning! My personal favorite part of the ceremony was walking down the aisle and seeing Giovanni and our wedding party standing at the altar. It was so beautiful to see the venue, decorations, and each person in that moment. Truly emotional!
Overall the camaraderie at our wedding was such a relief! Everyone including our family and friends got along so well and it was amazing to watch all of our guests dancing and enjoying their time together. (The open bar all night might have helped a little with that too!) Also, our caterer and the hard work of our waiters and waitresses was noticeable. Every guest was served quickly and carefully without having to wait for food or drinks, which allowed the reception to run on schedule. We asked our selected guests that gave a speech to have their speech prepared ahead of time and it was emotional and special to experience the moments of each speech. Our family surprised us with a Mariachi band and that was an extra special moment since we did not book it after seeing how pricey it was during the planning stage!
And lastly we asked them to share more about their time with us, Paradise Photo Studio Team?
Unice: I am so glad that we booked the Paradise Photo Studio team! I am forever grateful to each person on the team that captured every moment of our wedding. Giovanni and I decided to book 8 hours with 2 photographers and 2 videographers with the cool drone included! Leading up to the wedding, the communication was efficient and Ashley ensured that all of my questions were answered quickly. On the day of the wedding, the team was timely and quick to capture each moment. They were so friendly and you can tell they are each experienced and knowledgeable with what they do. Thank you Martina for being patient with me and showing me how to pose for each photo before the ceremony! I got my photos and videos a week after the wedding and words can't express the emotion of being able to relive your special day through the photos and videos from the Paradise Photo Studio team. Thank you!
Thank you for letting our Team be a part of your destination wedding. We wish you all the best as you embark together on this new journey of your lives! Congratulations on the newlyweds!